Have you ever wanted to skim off your favorite parts of different exercise classes and combine them into your ideal workout session? If so, PiYo may be your answer.
A hybrid between Pilates and yoga, PiYo was designed as part of the Beachbody series. It's a low-impact workout designed to strengthen and sculpt the body while increasing flexibility. It's the sweet spot for those who find yoga a little too slow, but want something more comprehensive than Pilates.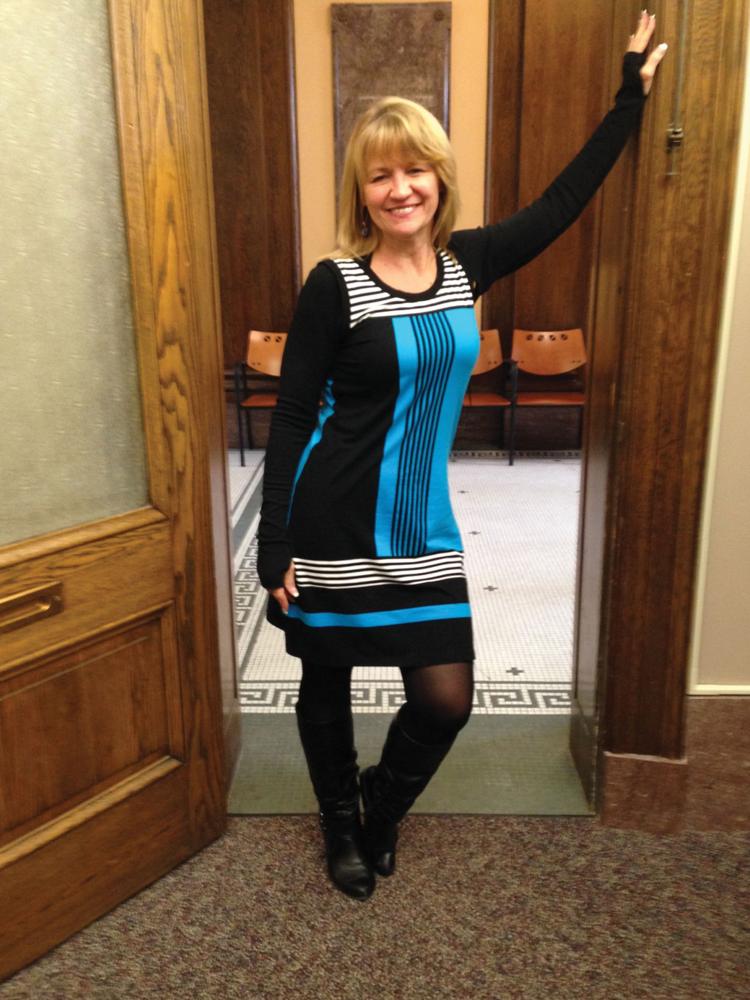 Certified PiYo
"Yoga is very, very good for you," says Shirley Westfall, confidential secretary to Judge Craig Doran, wellness committee member and certified PiYo instructor. "But for me, it's just too slow. PiYo is like yoga on steroids. You're stretching and moving."
As a fitness instructor for more than 20 years, Westfall knows exactly what she needs to stay motivated. She teaches weight training for strength, as well as spin classes for aerobic conditioning, yet thought she lacked flexibility. Then she heard about Beachbody PiYo. She purchased the DVD, tried it at home and enjoyed it. When her local YMCA offered a PiYo class in early 2017, she seized the opportunity and took the class along with colleague and fellow fitness enthusiast Jennifer Kehoe, an assistant public defender. Kehoe is also now a certified PiYo instructor.
"I took it once and fell in love with it," Westfall says. "I said to myself 'I'm getting certified in this.'"
That is exactly what Westfall and Kehoe did in June 2017. It was a new experience for Kehoe, who had never formally taught a fitness class. But she did have years of experience as a dancer.
"I taught dance," Kehoe says. "I like being able to teach people. I like helping people feel good about themselves and comfortable while achieving something."
Healthy Body, Healthier Life
There are many benefits to taking PiYo classes regularly. Kehoe says the class warms up your entire body, and the exercises move through muscle groups gradually. Over time it makes you stronger and more flexible, all while improving your balance. This makes you less prone to injury in your daily life.
"Research shows that as you get older, if you fall and break your hip past the age of 65, your chances of dying from any cause within a year are increased," Westfall says.
The functional benefits of PiYo aren't the only compelling aspects of the class. PiYo has killer body-sculpting features. Westfall says she feels more toned, and her problem areas are getting better.
OC Opportunity
Employees of Ontario County are particularly fortunate. Westfall and Kehoe have taken their love of PiYo and fitness and extended it to Ontario County employees. On Mondays and Fridays, they teach a free, half-hour PiYo class at 12:15 p.m. in the basement of the Ontario County courthouse.
"I couldn't talk my colleagues into going to the YMCA to take PiYo classes," Westfall says. "So I thought if they won't go to the class then I'll bring the class to them."
Classes typically have between 10 and 12 students. Kehoe and Westfall want you to attend — any Ontario County employee is welcome. Be sure to bring your own yoga mat, comfortable clothes and a water bottle.
Kehoe and Westfall emphasize that PiYo is for everyone. Classes are tailored and modified to work with the level of the students and their needs.
PiYo Class Primer
Each PiYo class is composed of different sections. There is a warm-up that gently moves through your entire body. Warm-ups often include sun salutations, which is a yoga flow movement. The main part of the class focuses on different areas. Expect a cardio element, as the flow keeps you moving. Part of the class also includes a power section with movements such as burpees to get your blood pumping. The class wraps up with a gentle tapering off and cool down.
"You just feel better when you do PiYo," Kehoe says. "A couple weeks ago I had dental work that involved tons of medicine. On Monday, I just didn't feel up to par. But after the class I felt great. If you come in feeling blah or tired, you'll feel much better afterwards."