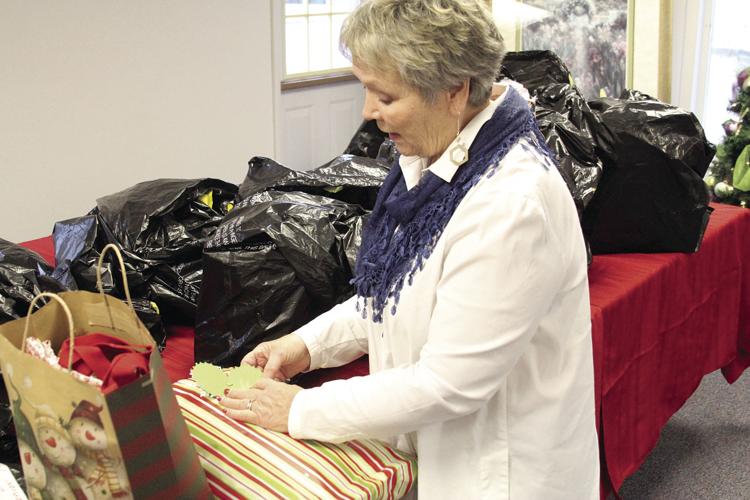 The Ludington Area Senior Center was in the spirit of the season throughout the week, with a variety of different activities held each day, culminating in a "spa day" on Friday morning.
Vickie Collins, senior center director, said the activities were part of a week-long series of open houses to promote the senior center and offer different activities to patrons.
"The point is just to raise awareness and do some different things," Collins said. "We did (activities) with beeswax, we did a card-making class, we made ornaments — just to do things we don't do on a regular basis.
"Now we're doing this spa day and this is the end of it."
The spa day featured an essential oils workshop led by Karen Bieniek, who showed center visitors the various therapeutic benefits of different oils.
Bieniek has been working with essential oils for about three years. She said her interest in them was peaked when her husband's sense of smell, which had been dulled, was reinvigorated by exposure to aromatherapy.
"He'd gone through all the tests and MRIs and he'd seen doctors ... and they told him he'd never regain his sense of smell," Bienik said. "So he started using peppermint and basil three or four times a day."
After about three months, she said, he smelled the basil and had a response.
"It was the first thing he'd smelled in years," she said. "And that showed me a sign that (essential oils) are really more than just a pretty smell."
Bieniek explained other elements of essential oils, too. Peppermint oil, she said, helps repel spiders and ants. While lemon and lime are good antioxidants.
Attendees learned about different oils and had a chance to make their own oil mixtures to home.
The spa day also featured chair massages by Angie Young of Ludington Holistic Health LLC, who said chair massages are low-intensity and a bit less intimidating for some people than table massages.
Young has been working as a masseuse for 16 years after studying the practice at Muskegon Community College, and Friday's spa day event was her first time at the Ludington Senior Center.
Collins said the open houses held throughout the week also consisted of a raffle
Angel tree
Elsewhere in the senior center on Friday, volunteers were hard at work wrapping and packaging gift items for the Angel Tree program, which helps make sure that people who might not have loved ones or family in the area have something to open for the Christmas holiday.
Mary Vree and Jean Kobylecky were in the center's back room, tallying up items and making sure the right gifts were going to the right people.
"We talked to MediLodge and Meals on Wheels and Grancare and others, and we got the names of people who don't have anyone who would give them a Christmas gift, because maybe (their loved ones) are deceased, or out of town," said Vree.
Once they know what people have asked for, Vree and other volunteers write those requests down on tags that can be picked up by anyone who wishes to purchase items for one or more of the people on the list.
This year, there were 137 people who had made requests through the Angel Tree, and Vree said they average about three or four gifts per person, totaling more than 400 wrapped presents.
"The community support has been amazing. Many people picked up three or more tags," Vree said, adding that area businesses have also contributed. "Metal Works and Whitehall Industries have been really helpful … Their employees picked up a lot of tags."
Most of the requests are reasonably priced and practical, she said.
"People just ask for simple things like hats, bath robes and things you need to get through the winter," Vree said.
Some of the Angel Tree gifts were be picked up by employees from local agencies on Friday, and Vree said she hopes to have every gift on its way to the proper recipient by Tuesday, Dec. 17.
"Now we're in the process of making sure everyone gets the right gift," Vree said.