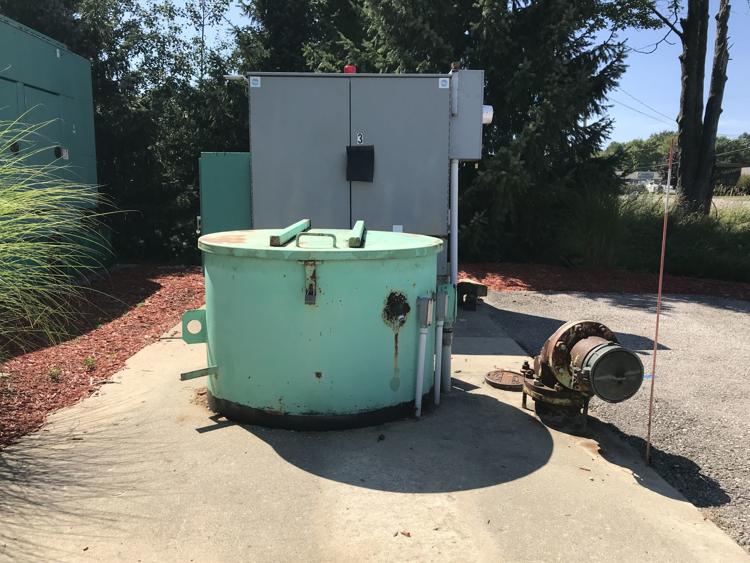 SCOTTVILLE — Because of increasing projected costs associated with replacing a wastewater lift station primarily used by the City of Scottville, city officials are hoping that cost-saving measures can be identified to offset the near $900,000 cost of the work.
The city commission discussed the lift station replacement bids Monday at city hall, where City Manager Courtney Magaluk addressed the issue.
"We thought it was going to be a price tag of around $400,000, but by the time it went through engineering and design, it was up to $625,000," City Manager Courtney Magaluk said about the work. "There were two bids that came back in response to that, and right now we're looking at another 33 percent beyond that point, so the amount we'd have to borrow for this work is almost double what we'd anticipated."
Magaluk said the project bids go through the Mason County Drain Commission, which meets Wednesday. She said the hope is that the commission will be able to identify some ways in which the cost of replacing the lift station might be reduced.
Magaluk emphasized that, though the lift station is old, the replacement is not needed because it's failing — rather, it's needed because of added volume as a result of rainwater getting into the sewer system and other issues.
"We know we have an issue with infiltration … which adds to the volume," she said. "Our DPW has been proactive in identifying those cross-connections and they've seen volume drop down a bit."
Magaluk added that there's a possibility continued vigilant efforts to prevent rainwater infiltration into the sewer system could reduce the volume.
To date, two bids have been submitted for — one from Jason Merkey for $855,475 and one from K&R for $867,500. Either of those options, combined with about $75,000 for contingencies, would bring project to about $234,475 over budget, according to Mason County Drain Commissioner Dennis Dunlap.
Dunlap told the Daily News previously that he hopes the drain commission can, at its upcoming meeting, get to the bottom of why the bids are so much higher than expected.
CSX rental fees
Commissioners also made a decision to "step away" from negotiations with CSX Transportation, the railroad company from which the city rents a portion of property on the north side of the railroad tracks between Columbia and Blaine streets, after the company attempted to impose an increased rental fee on the city in early August.
On Aug. 6, commissioners learned that CSX was asking for the annual rent the city pays for the property — which it uses to store snow in the winter — from $115 to $650. Based on a recommendation from Mayor Bruce Krieger, the city made a counter-offer to pay $215 and continue handling maintenance on the property, including lawn-mowing and general upkeep.
Magaluk said she has spoken with representatives from CSX since then, and said the rent increases are being imposed in multiple locations by the company.
"They gave me a verbal indication that they have been negotiating on a lot of these (leases in other areas) … and they're settling in the $300 range rather than the $215 that we were hoping for."
Magaluk asked commissioners how they would like to proceed, and Krieger responded.
"We made them an offer, and until they make a counter-offer I don't think we should do anything," Krieger said. "Maybe, as Commissioner (Rob) Alway has stated, we should bill them for mowing the property."
Magaluk confirmed that the $300 annual amount was not an official counter-offer to the city, but rather an informal estimate of the amount the company had been settling for in other cases.
Magaluk asked if commissioners wished to get a formal second offer or walk away altogether.
Alway made a motion to "step away from negotiating with CSX and, in exchange, request that they follow our ordinances just like any other property owner when appropriate."
The motion was supported by Brian Benyo, and approved unanimously by the full commission.
"We'll find somewhere else to put snow," Alway said.
The commission will send the company a letter asking them to adhere to grass-mowing and other property maintenance ordinances, and bill CSX for any upkeep costs that fall back on the city.
Other business
Also on Monday, commissioners decided to pursue legal action against a homeowner regarding a blighted property on South Reinberg Avenue.
City Attorney Tracy Thompson outlined the city's options for addressing the property during Monday's meeting.
"We have a couple different avenues we could pursue," Thompson said. "We could give the homeowner a ticket — a couple hundred bucks … the other option is a lawsuit."
Commissioners approved a motion from Krieger to pursue legal action In a 6-1 vote, with Alway, Marcy Spencer, Connie Duncil, Krieger, Sally Cole and Sue Petipren voting in favor of the measure and Benyo voting against.
Spencer said the city's finance and ordinance committee supported the lawsuit "100 percent."
"(The homeowner) has received many tickets and it's never resulted in anything other than more of the same," Spencer said.
Thompson agreed, adding that the decision to pursue legal action "is not a sudden decision on behalf of the city, and that will be made clear to a judge."
The case will be heard in 51st Circuit Court, according to Thompson.