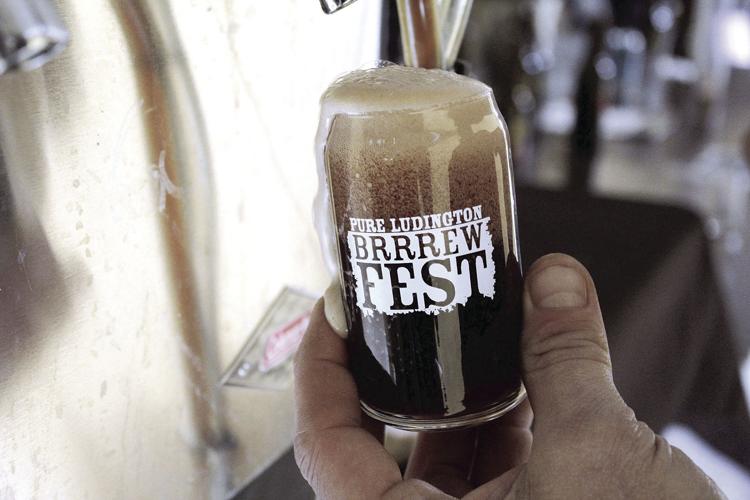 With temperatures expected to be in the mid-30s for the coming weekend, the forecast for Ludington's first major entertainment event of the year — and the decade — is looking good, according to organizers.
The sixth annual Pure Ludington BrrrewFest craft beer and live music festival, which is sponsored by the Ludington & Scottville Area Chamber of Commerce, will take place from 1 to 6 p.m. Saturday at the Rotary Park, where more than 1,000 people are expected to take in the tastes and sounds of Ludington.
The event is a craft beverage festival, featuring beer, wine, cider and mead from a host of local and out-of-town breweries, but it's also a fundraiser for the Friends of the Ludington State Park (FLSP), which works to raise funds and donate time and energy to various projects at the park.
Brandy Miller, president and CEO of the chamber, said BrrrewFest has been an effective and productive fundraiser for the FLSP group, bringing in tens of thousands since the event's inception.
"We've raised more than $10,000 (in a year)," Miller told the Daily News. "Depending on expenses and ticket turnout, we've been anywhere between $5,000 and $10,000 per year. I think more than $30,000 over the last five years has been donated to (the FLSP group). It's been a great fundraiser and a great partnership."
Jen Tooman, marketing and communications director for the Downtown Ludington Board — an entity that works to support events in the city's Downtown Development Authority district — is a member of the organizing committee for BrrrewFest. Tooman told the Daily News that the FLSP group is selected as a beneficiary because of the work the group does to benefit the state park and the community.
"They do a lot at the park, including the (summer) music series and a lot of volunteer projects, and we appreciate what they do," Tooman said.
In addition to the cause, BrrrewFest also offers a large selection of things for attendees to enjoy, according to Tooman.
"From the downtown angle, we have four businesses participating, selling things other than beer," Tooman said. "Gordy's will be there selling apparel, Red Door Gallery will be there with clay pit mugs — and they've also done the trophy for the brewery that collects the most tokens — Red Rooster Coffee & Community will be selling coffee and House of Flavors will have hot-tots, so there will be something warm to eat."
Additionally, this year's festival boasts a single 200-foot-long tent for guests to gather and stay warm in. During previous years, BrrrewFest has been split between multiple heated tents, but Tooman said the larger space will help keep everyone warm.
"I always tell people not to let the winter temperatures scare you away," Tooman said. "Just dress like you're going skiing … The tent is heated, and we'll have heaters outside as well."
Miller added, "We're happy to have everything in one large tent... It will keep everybody and everything warmer."
BrrrewFest tends to draw about 1,000 people each year, according to Tooman — more with volunteers and participating brewers included. She added that the event has seen steady attendance increases from year to year, too.
"It's grown every year, so I'm sure it will be bigger this year," Tooman said.
Tooman said sponsors in the community have had a hand in making BrrrewFest a success.
"The great thing is we have a lot of sponsors this year who have stepped up to help cover the cost of (the event)," Tooman said. "That means more money can go to the Friends of the Ludington State Park."
With live music from Mike Lenich starting at 1:45 p.m., and a set from the band White Rabbit to follow — as well as the annual Boozy Breakfast at Barley & Rye from 9 a.m. to noon just before the event begins — Tooman said there's something for everyone.
"We have beer, wine, mead, cider — just a variety of things available," she said. "You don't have to drink. Just come out and have a good time."
Miller said organizers are optimistic about the weather, the turnout and the amount of funds Saturday's event will raise, and encourages everyone to participate.
"It's looking like it's going to be a nice day — in the mid-30s," she said. "It's just an opportunity to come out, have a good time and contribute to a great cause. It's a great way to kind of shake off the winter doldrums."
The crafters
For its sixth year, BrrrewFest will bring together 25 brewers from throughout the state, including local favorites Ludington Bay Brewing Co., Jamesport Brewing Co., Love Wines and Starving Artist Brewing, with Ludington Bay sponsoring the entertainment tent's VIP section.
Also in attendance will be out-of-town breweries, wineries, and cider and mead crafters including Founders Brewing Co., Great Mead Hall and Brewing Co., Haymarket Brewing, Middle Coast Brewing Co., Mountain Town Brewing Co., North Channel Brewing Co., Paw Paw Brewing, Perrin Brewing Co., Virtue Cider, St. Ambrose Cellars, Stormcloud Brewing Co. and more.
Tickets and more
Tickets are available through the end of the day today for $30 online at www,MyNorthTickets.com. Entry includes six drink tokens and a 5-ounce commemorative tasting glass.
While in town for BrrrewFest, visitors are encouraged to participate in other activities, including snowshoeing at Ludington State Park and fat-tire bicycling at Cartier Park the the Ludington Area Schools Forest. For more information about those activities, visit www.pureludington.com.
Get involved
Tooman said volunteers are still needed to help at the gate and with ticket sales.
For information about how to volunteer, find Pure Ludington BrrrewFest on Facebook, or visit the Downtown Ludington Facebook page and look for events and volunteering opportunities.