We did it!
The community, that is.
The community — with lots of visitors pitching in — helped the House of Flavors break the world record for longest ice cream dessert.
Guinness World Records informed Ludington Community Development Director Heather Tykoski Wednesday morning that indeed, the June 11 attempt was a success.
"Congratulations, you are Officially Amazing!" it read.
Downtown Ludington's House of Flavors holds the record, with a sundae that measured 905.48 meters (2,970 feet, 8.95 inches), or a half-mile.
The event held to break the record brought in an estimated 12,000 people to downtown Ludington that warm summery day.
Ludington Avenue was closed for eight blocks, while the ice cream was scooped into troughs on tables.
Guinness verified the record was official by viewing video and still images noting each scoop touched its neighboring scoop of ice cream.
The event meant a massive need for volunteers, not only in scooping and recording, but in eating, as all of the ice cream and the toppings had to be consumed.
It was Jen Tooman, downtown Ludington communications and marketing manager, who came up with the idea of attempting to break the record, and House of Flavors owner Barry Neal jumped right in to make it happen. They sought help throughout the community, through suppliers and volunteers.
"We were thrilled to celebrate our community in such a sweet way on June 11, 2016 with our world record attempt for the longest ice cream dessert," Neal said. "The outpouring of enthusiasm and community pride for our Love Ludington weekend is something downtown Ludington and House of Flavors will remember always."
Tooman saw Moo-ville Creamery in Nashville, Michigan, had held the record previously, but that it had been taken in 2015 by Manurewa, New Zealand.
Tooman said it was good to have the record back in Michigan, no matter how long — or short — it lasts.
Moo-ville Creamery made its own recent attempt Sept. 17, making an ice cream dessert that spanned 3,656 feet. Guinness will set about verifying that attempt as it did Ludington's.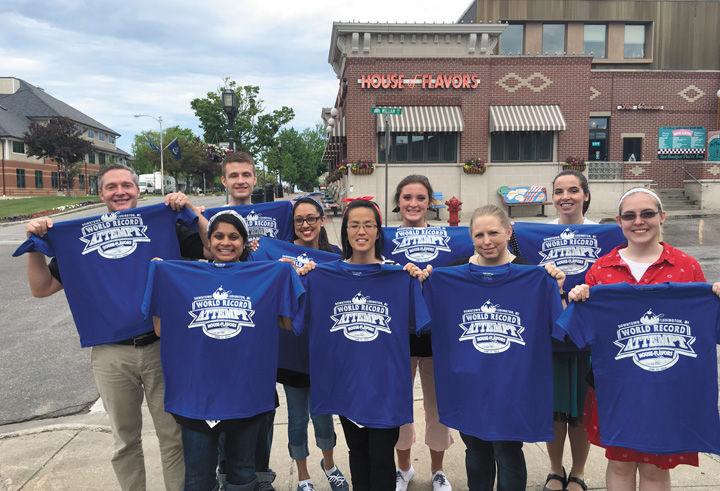 "It is an honor to be from a state and an industry willing to work toward achieving world records with such sweet results. We're proud to join Moo-ville and any others in the attempt to make our state the sweetest state in the world," Neal said.
"We are definitely proud of Michigan and our ice cream," said Tina Westendorp, production manager at Moo-ville. "Congratulations to Ludington. It's awesome. We're just glad the title's in Michigan, No. 1 in the world."
Local residents and people from across the country came to be a part of the event, including eating the ice cream, whipped topping and cherries that were used to make the dessert.
"The goal was to have an awesome community day in Ludington," Tooman said. "Being able to hold the record is the cherry on top of the sundae."
Tooman called it a "crazy, insane task."
"It was awesome to see the community come together," she said.
"Congratulations to Ludington. It's awesome. We're just glad the title's in Michigan, No. 1 in the world."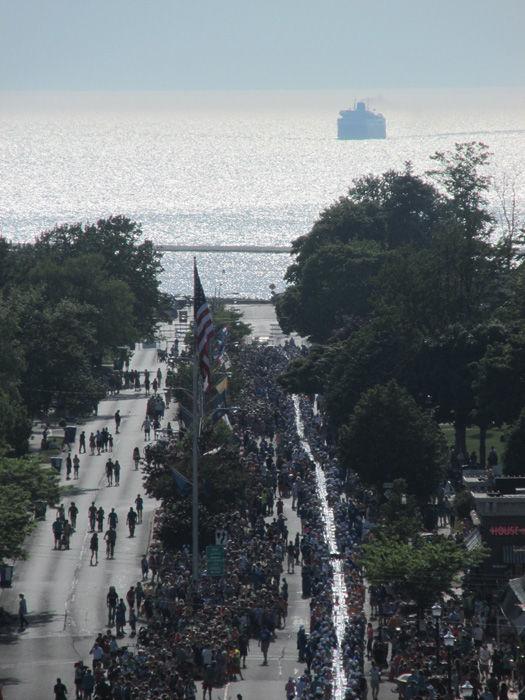 Volunteers took their job seriously and "they wanted it just as badly as we did."
Randy Boerema, owner of LakeFX Media, coordinated the video and photo efforts to verify the efforts.
"That's just awesome, I'm excited," he said. "It's just cool to see that. Either way, it was a win for the community.
"To bring that many people into our town and to have that experience was just flat our fun … to get the record on top of it is a bonus."
He said he enjoyed working with people he already knew and meeting new people as together they documented the day.
"It was actually a lot of fun and just being a part of that team, seeing a lot of creative professionals pull something like that off was just really cool," he said.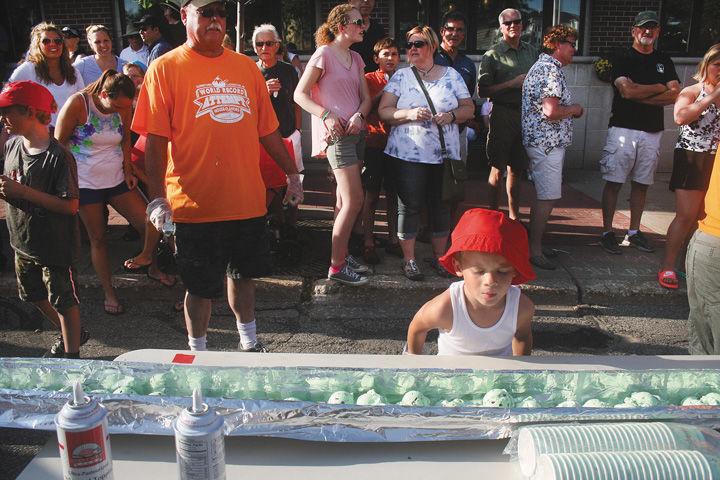 "To see everyone come together and working together in every aspect," he said. "It was just a really cool thing."
ANOTHER RECORD?
There is talk of trying to break another record some day in the future, but not in the ice cream dessert category, which was intense in its need for labor, supplies and coordination efforts.
The event was held in coordination with Love Ludington weekend. There will be more Love Ludington Weekend in the future, although the date for 2017 has not yet been set.
"We're talking about having an event every summer, a community event," Tooman said. "We have a few other ideas for that."
patti@ludingtondailynews.com 843-1122 x341
\